The world's most sustainable energy company – three years running
Our home, planet Earth, is at risk. It's time for governments and businesses to tackle the climate emergency and limit global warming to 1.5°C. Change isn't easy, but it is possible. Take it from us.
In just 10 years, we've transformed from one of the most carbon-intensive energy companies in Europe to being ranked the world's most sustainable energy company in the
Corporate Knights Global 100 Index
– three years in a row. We offer wind power, solar energy and storage, and renewable hydrogen to countries and companies around the world.
As a catalyst for climate action beyond our own company, we want our story to inspire others to reduce their emissions and realise the benefits of the green transformation.
Let's work together to create a world that runs entirely on green energy.
Read our transformation story
"
We aspire to be one of the true catalysts of systemic change to a greener society by continuing to prove that there is no long-term trade-off between sustainability and financial value creation.

— Mads Nipper, CEO Ørsted
Your partner in fighting climate change

Science tells us that we need to at least halve global carbon emissions by 2030 to avoid climate catastrophe. But emissions continue to rise year on year, with 73 % of global emissions coming from energy from fossil fuels.

Our primary lever in fighting climate change and creating a more sustainable world is to transform the global energy system from fossil fuels to renewable energy. As a world leader in renewable energy, we offer clean energy solutions to support countries and companies in their journey to reduce carbon emissions. We want to share learnings from our own transformation to enable sustainable change in your business.
Becoming the most sustainable energy company in the world
Transforming an energy company the size of Ørsted hasn't been easy, but it was necessary. Our key drivers for combating climate change are:
Phasing out coal
Our business was originally based on fossil fuels, and we were one of the most coal-intensive energy companies in Europe. But we dismantled our fossil fuel business and now focus entirely on renewables. We'll completely phase out the use of coal in 2023 and generate nearly 100 % green energy by 2025. Read more about our renewable energy solutions.
Offshore wind energy
We develop onshore wind, solar energy and storage solutions, and are the global leader in offshore wind. Through innovation and large-scale deployment of offshore wind technology, we've helped dramatically bring down the costs. Today, offshore wind is cheaper than newly built coal- and gas-fired power plants in most parts of the world. It's a game changer that has lifted offshore wind from a niche industry to a global and rapidly growing industry with the potential to deliver green energy to hundreds of millions of people.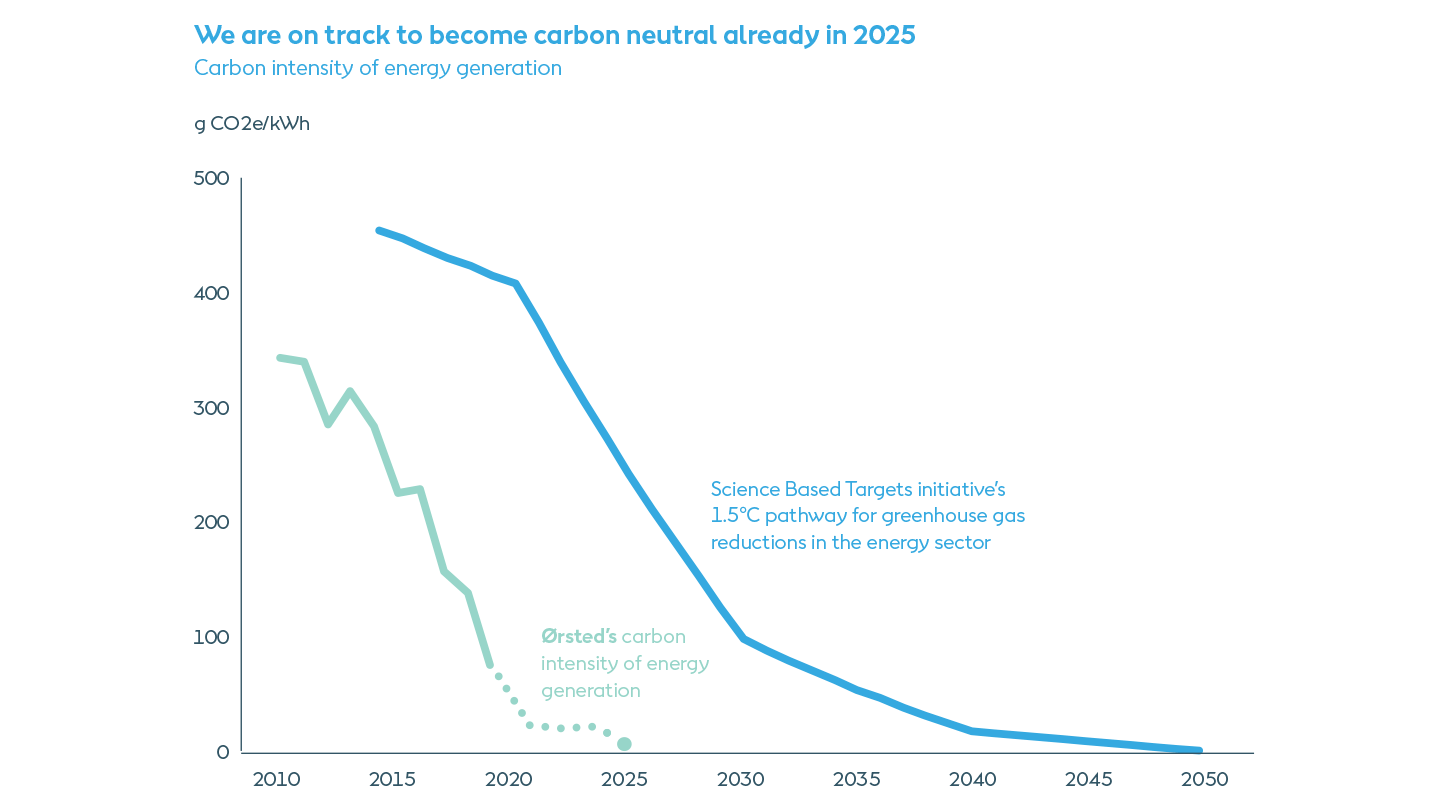 Next steps: decarbonising our supply chain

Ørsted is on track to be carbon-neutral in energy generation and operations by 2025. As we're close to having eliminated the carbon emissions from our energy production, we've embarked on the next frontier in our decarbonisation journey. We commit to halving the carbon emissions from our wholesale buying and selling of natural gas and from our supply chain by 2032. Our ambition is to achieve a net-zero carbon footprint by 2040. That's ten years ahead of the global target for net-zero emissions as required by climate science to limit global warming to 1.5°C.

We're doing this by gradually phasing out wholesale buying and selling of natural gas, while increasing the green share of power traded. We're also engaging our strategic suppliers to disclose their carbon emissions from the manufacture and installation of renewable energy, and to set science-based targets for reducing their emissions. Furthermore, we encourage strategic suppliers to use 100 % renewable electricity in the manufacture of wind turbines, foundations, cables, and substations. And we're exploring options to power vessels with renewable energy.

Building green energy in a sustainable way

A world that runs entirely on green energy will curb climate change, spur social development, and fuel economic growth. We want to build green energy in a sustainable way and address the potential impacts of the green energy transformation.
For us, this means incorporating sustainable growth programmes in our business strategy, managing impacts on biodiversity, working closely with the local communities where we build green energy, paying our fair share of tax, and promoting employee diversity with a focus on female leadership.
FAQ
What makes Ørsted the most sustainable energy company in the world?  

Ørsted has been ranked the world's most sustainable energy company in the Global 100 index in 2019, 2020, and 2021.

This year, we ranked the second-most sustainable company in the world overall. This follows our ranking as the most sustainable company in the world in 2020, making us the first ever energy company to hold the top spot.

According to Corporate Knights, our strong performance in the 2021 ranking is influenced by*:

the high percentage of our revenue (62.2 %) earned from renewable energy
the rise in our carbon and water productivity, as we reduced absolute carbon emissions by 47 % and cut water use
our investments, made exclusively in green energy: Ørsted is investing up to $30 billion towards 2025
good performance in terms of rate of taxes paid, broad gender diversity, and paid sick leave for employees.

*These statistics are based on our 2019 data set

What is Corporate Knights? 

Corporate Knights Inc. is a Toronto-based publishing and research firm, comprising a quarterly sustainable business magazine and a research division that produces rankings and financial product ratings based on corporate sustainability performance. Since 2005, Corporate Knights has produced the annual Global 100 index of the world's most sustainable companies – an authoritative and widely-respected index of corporate sustainability performance. The Global 100 index is announced every year on the sidelines of the World Economic Forum in Davos.

As one of the world's largest circulation (147K+) magazines focused on the intersection of business and society, Corporate Knights is also a prominent brand in the clean capitalism media space. Their vision is to provide information empowering markets to foster a better world.

What methodology does Corporate Knights use for the Global 100 index? 

Corporate Knights ranks the 100 most sustainable corporations in the world. These represent the top 1 % in the world on corporate sustainability performance. The ranking is cross-sectoral, including the industrial, financial, IT, consumer, and healthcare sectors.

For the 2021 Global 100 index, Corporate Knights rigorously assessed more than 7,300 companies with more than USD 1 billion in revenues on parameters such as carbon and water productivity, emissions performance, rates of taxes paid, and board gender diversity.

The analysis compared the financial performance and corporate longevity of the Global 100 companies, which represent just over 1 % of assessed companies, against the MSCI All Country World Index.

According to Corporate Knights, the Global 100 index supports "the mounting case that sustainable corporate performance is consistent with equal or better returns for investors and greater corporate longevity." They add that Global 100 companies consistently outperform MSCI ACWI companies on CEO-to-average-worker pay ratio, board gender diversity, paying their fair share of taxes, and on various other specific metrics that factor into the ranking.

What is the importance of sustainability in business?

Corporate sustainability and climate action are emerging as global demands driven by activist movements, ambitious politicians, and bold business leaders. Moving forward, these demands will continue to guide consumer sentiment and loyalty.

Faced with the existential threat of the global climate emergency, companies all over the world are beginning to explore more sustainable ways of doing business. They're considering their long-term impact on the local environment, society, and the economy and asking whether their business makes a measurable, positive contribution.

Business sustainability is both a moral obligation and good business practice. Going green is also a competitive differentiator, and one that will be key for companies to stay in business. Those companies that embed carbon reduction across their strategy are likely to be more profitable and sustainable over time. They're also more likely to be attractive to investors who are increasingly keen to know the climate impacts of the companies in which they invest.

While there may be costs associated with transforming business models to align with science, the cost of not taking action is considerably higher. The world needs to act now on climate, and companies will play a transformational role.

"We firmly believe that there is no long-term trade-off between sustainability and financial value creation" – Mads Nipper, CEO